3D Print Moon Night Light - Perfect gift for the new year
$32.99
$27.99
We Support Secure Checkout
A perfect gift for kids, for birthdays, for Christmas and other holidays. The product is using eco-friendly PLA material, which is a recycled material from corn often used as 3D printing raw material. The built-in rechargeable battery can be charged by power bank, computer, or other USB chargers. With the remote, you can easily switch 16 different colors. 
Body Material: PLA

Base Material: Wooden

Shape: Moon

Is Bulbs Included: Yes 
Battery Type: Lithum (1 x 400mAh)

Light Source: LED Bulbs

Power Generation: By touch

Voltage: 5V

Wattage: 0-5W 
Charging time: 2-4 hours

Working hours: 8-10hours ( depends on brightness )

Certification: CCC, CE, FCC
Usage: Night Light
Feature: 16 colors, eco-friendly

Package includes:
1 x 3D Moon Lamp
1 x Wooden holder
1 x USB Power Cable
1 x English Instructions
1 x Remote (to change colors)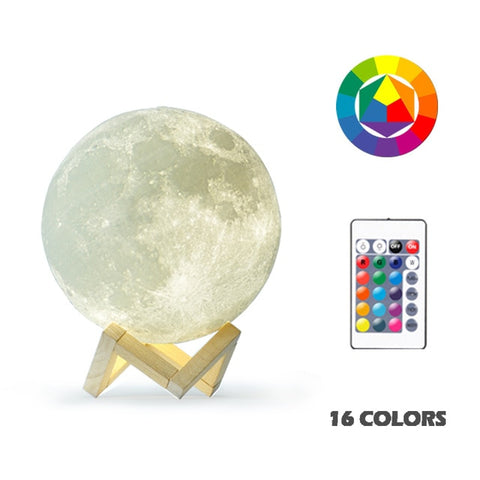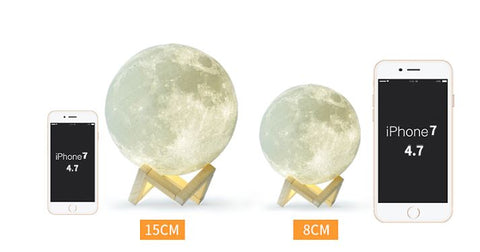 What is the price of shipping?

We offer FREE SHIPPING to most of our light weighted products!
The fee for our standard shipping method should be listed on each product page. If you wish to have a special or customized shipping method, please leave your message in your order or write to us at order@plantyeco.com along with your order number.
How long will it take to receive my order?

With our FREE SHIPPING term, you will receive your order between 2 weeks to 5 weeks time globally. However, if you wish to receive the product within 2 weeks, please contact us when you place the order to order@plantyeco.com, we will help you to choose fast shipping with extra cost.

At the moment, our FREE SHIPPING and delivery only apply to the following countries:

United States, Japan, South Korea, Italy, Russia, Singapore, Belgium, France, Germany, Netherlands, Spain, United Kingdom, New Zealand, Canada
How are your packages sent?

The package are sent directly by our selected suppliers in order to fulfill the product to you as soon as possible. As a young startup, the packaging is currently not dealt by us but we are thriving to achieve the sustainable goal in the near future. If you have any feedback or suggestions to the supplier in terms of packaging, we are more than happy to convey the message.
Can I track my order?

All deliveries are sent by us with a tracking number. When your order has been dispatched, we will send you a confirmation email with a link to our delivery service's website and a tracking number.

You will also be able to track your order from here.
My tracking says my order has been delivered but my package is missing. What can I do?

Missing, stolen or lost packages must be reported to us as soon as possible or within 45 days since your order is made. Please send your query to order@plantyeo.com along with your order and tracking number. We will reply to you within 48 hours.
Do I need to pay custom fee?

Based on laws from different countries, custom fee might be required such as Brazil, etc. The custom will get in contact if the custom requires clearance. PlantyEco will not cover the custom fee.
If there is anything we can help, don't hesitate to contact us by filling contact form below: